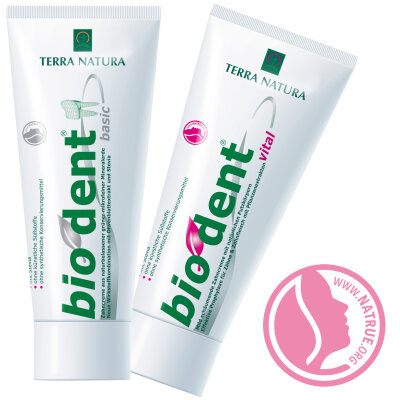 BIODENT FLUORIDE-FREE TOOTHPASTE
Terra Natura Biodent Toothpaste without Fluoride
Biodent Terra Natura toothpastes are fluoride-free and offer reliable protection for your teeth, gums and fresh breath even without fluoride.
The highly effective fluoride-free formula and exclusive composition of active ingredients based on natural ingredients protects the teeth. With regular use, it works against caries, plaque, tartar and prevents gum problems with anti-inflammatory organic chamomile. Camomile extracts support a healthy oral flora and can have a calming, anti-inflammatory and healing effect.
The Biodent Basics toothpaste is also homeopathy compatible. With us, you will find a dental care product that suits you: toothpaste without fluoride.
Natural cosmetics toothpaste fluoride-free
With exclusive active ingredient compositions and natural ingredients, Biodent natural cosmetics research has developed highly effective formulas that cover all dental and oral hygiene needs:
Biodent toothpastes offer all-round protection for your teeth - without fluorides.
The 1st Stevia toothpaste produced according to BDIH criteria without sorbitol! Biodent Terra Natura toothpastes bear the BDIH certificate for controlled natural cosmetics.
dermatest® Medical Research Company / Certificate 2007: for Biodent BasicS and Vital: dermatologically and allergologically tested (not on animals), rated very good.
Terra Natura Flouride-free Toothpaste | Organic Active Plant Ingredients | Certified Natural Cosmetics for Natural Dental Care
Gently removes plaque

Protects against caries

Protects against tartar build-up

Protects against gum problems

Provides fresh breath

Without paraffin

Without mineral oil

100% silicone free

Without microplastics

Without synthetic preservatives

Without fluorides

Without artificial sweeteners

Organic quality

Vegan
Cleans teeth and protects them from plaque
---
---
---